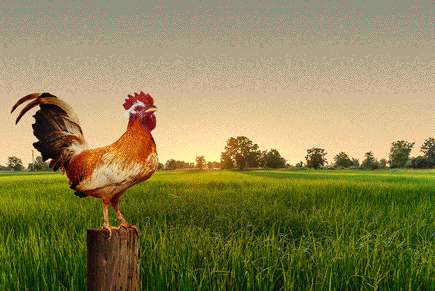 The Rooster personality
They have a love for life and want to right every wrong. Their idealism will lead them to become involved in life, oftentimes through political action or volunteer work, and they work hard to make life problem-free, for themselves and others.
The Rooster is very intelligent, with quick reflexes, and has inexhaustible energy.

People are amazed they can talk so much! Roosters have adrenaline coursing through their veins! These self-promoters enjoy jumping the goal posts and therefore engage in competition of all kinds.
When there's a target to pursue, enemy to conquer, and goal to achieve, they know how to make big things happen. Big magnificent things do happen in career and finances, such as having a fulfilling cozy security.

These are influential, powerful people always trustworthy, and the world stands up and salutes! Roosters aren't shifty or cagey and have no interest in hiding behind a facade. They are the proverbial open book, telling the truth and keeping their word. If you show your hand, the Rooster will respect you for it.
Roosters tend to be perfectionists and expect to be in control, especially over their appearance. Primping and posing for the Rooster can go on forever! Being noticed and admired is an aphrodisiac for Roosters, and they can go a long time on a few kind words.
Roosters also adore being out on the town, especially if they're in the company of adoring friends. Roosters also expect to be in control of their surroundings, including whoever happens to be in those surroundings.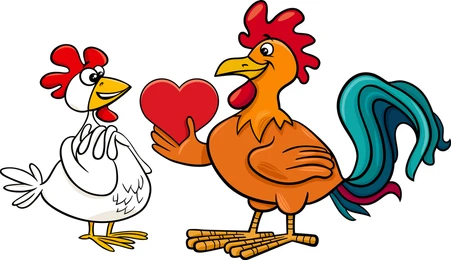 The Rooster in Love
Their very soft hearts relish love and heartbreaking poetry. They pamper their senses with indulgences and when they're not looking, they sink into a love trap more powerful than quicksand. Their relationships will last forever because they take very good care of their other half.
The Rooster needs the right partner, one who understands this Sign's basically conservative nature. With the right person, the Rooster can be the most loyal, trusting and supportive mate around, one who bends over backward to please its loved ones. Some Signs may just end up feeling hen-pecked.
You take pride in your appearance, and if the situation demands, you know how to impress with intelligent conversation.
You are capable of deep commitment, and in the right relationship are a dedicated and responsible partner.


Love compatibility

| | | |
| --- | --- | --- |
| ZODIAC SIGN | 1st BEST MATCH | 2nd BEST MATCH |
| RAT | DRAGON | MONKEY |
| OX | SNAKE | ROOSTER |
| TIGER | HORSE | DOG |
| RABBIT | SHEEP | PIG |
| DRAGON | RAT | MONKEY |
| SNAKE | OX | ROOSTER |
| HORSE | DOG | TIGER |
| SHEEP | PIG | RABBIT |
| MONKEY | RAT | DRAGON |
| ROOSTER | OX | SNAKE |
| DOG | TIGER | HORSE |
| PIG | RABBIT | SHEEP |

Some famous Roosters:
Yoko Ono, Bette Midler, Michael Caine, Enrico Caruso, Eric Clapton, Joan Collins, the Duke of Edinburgh, Gloria Estefan, Bryan Ferry, Errol Flynn, Steffi Graf, Melanie Griffith, Richard Harris, Deborah Harry, Goldie Hawn, Katherine Hepburn, Diane Keaton, D.H. Lawrence, David Livingstone, Jayne Mansfield, Steve Martin, James Mason, Bette Middler, Van Morrison, Willie Nelson, Paul Nicholas, Kim Novak, Donny Osmond, Dolly Parton, Michelle Pfeiffer, Roman Polanski, Priscilla Presley, Nancy Reagan, Neil Young.